Pour ceux qui recoivent ce genre de mail – j'en fais partie car c'est parfois interessant :
Voici le genre de placement produit qu'on peut trouver. Je n'apprecie pas ce type de speach, qui est trop typé pub mass media pour moi. C'aurait été pour embaucher un marabout pour trouver l'amour, ca m'aurait fait le meme effet 😀

Je suis Olivier Perrin, le Vaillant Petit Économiste. J'écris cette lettre d'information GRATUITE 3 à 4 fois par semaine. Cliquez ici pour en savoir plus et vous inscrire.

Si au contraire vous en avez assez de me lire, cliquez ici pour vous désinscire.
Je ferme
Chère lectrice, cher lecteur,
Je ferme les inscriptions à l'Investisseur Crypto Confidentiel demain soir à minuit.
Je vous rappelle que Teeka Tiwari commercialise ce même service aux États-Unis pour 4 500$ !!
Il ne m'a autorisé à casser les prix que pour une courte période de lancement qui s'achève demain.
Ce n'est pas tout.
depuis une semaine, les indices de l'arrivée imminente du Second Boom des cryptos se multiplient :
La Chine qui clame haut et fort son hostilité aux cryptos vient pourtant d'investir 400 millions de dollars dans un fonds d'un milliards de dollars spécialisé… en cryptos ;
TD bank, une des plus grosses banques canadiennes avec 22 millions de clients dans le monde, vient de déposer une demande de brevet pour une technologie de paiement crypto en temps réel spécifiquement pour le commerce de détails.
Les Rockefeller, cette famille américaine de milliardaires du pétrole, vient d'annoncer que son fonds d'investissement familial se lançait également dans le cryptos ; 
(…) ca continue un moment
Bref voici une critique qui me parait claire :
src :
https://steemit.com/bitcoin/@blowmywhistle/palm-beach-research-group-and-teeka-tiwari-are-they-scammers-and-market-manipulators
Palm Beach Research Group & Teeka Tiwari. Are they Scammers and market manipulators?
If you have heard of Teeka and the emergency webinar he held recently you probably don't think much of him after watching the webinar.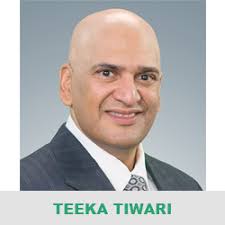 He released a free week long course claiming to get you ready for crypto investing. It appeared to be aimed at beginners and really just came across like an as seen on TV sales pitch.
In his sales pitch he claims to have information and access to big names in crypto and has a mystery coin and the info he provides could see you gain up to 20 times your investment. He also claims to have purchased $1 million worth of bitcoin which he will give away. For you chance to get a share of the $1 mil all you have to do is register your email address and show up to the webinar.
This caused a lot of speculation in the crypto world. He gave ambiguous hints as to what the mystery coin would be leading many to try and guess. Of course these hints were so broad but with specific criteria that it appeared to link to around seven coins plus up to another 10 more possibilities that were less likely.
I personally guessed it would be one of these coins GNT, SYS, BAT, NEM, XRP, GRS based on all his hints. There were other coins also. I concluded it was impossible to be sure as it was so vague and he was just pumping all the coins he holds.
We then started seeing well written leaks on 4Chan and other sites claiming they had figured out the coin. One by one they appeared and the coins pumped and dumped.
These reports could have been posted by anyone though such as pump and dump groups or individuals.
Interestingly no one leaked one on XRP that I saw. There was some people guessing it might be XRP but because everyone dislikes Ripple right now, plus it didn't meet all the criteria of his hints so it never really pumped. This is what leads me to believe he purposely mislead people into thinking it was other coins and not XRP. He claimed it was « little known even in the crypto word » and implied it had a low market cap (« because it was in the same positions other coins that had similar gains he predicted are in »). Neither is true about Ripple. Everyone in crypto knows ripple and it is not in the same position as those other coins. In fact XRP has already gone through that 2000% gains phase. Though it could do it again in the right conditions.
We suffered around 20 emails over a few days with the same kind of as seen on TV sales pitch coming. I have also received around 13 more over a few days as I was writing this.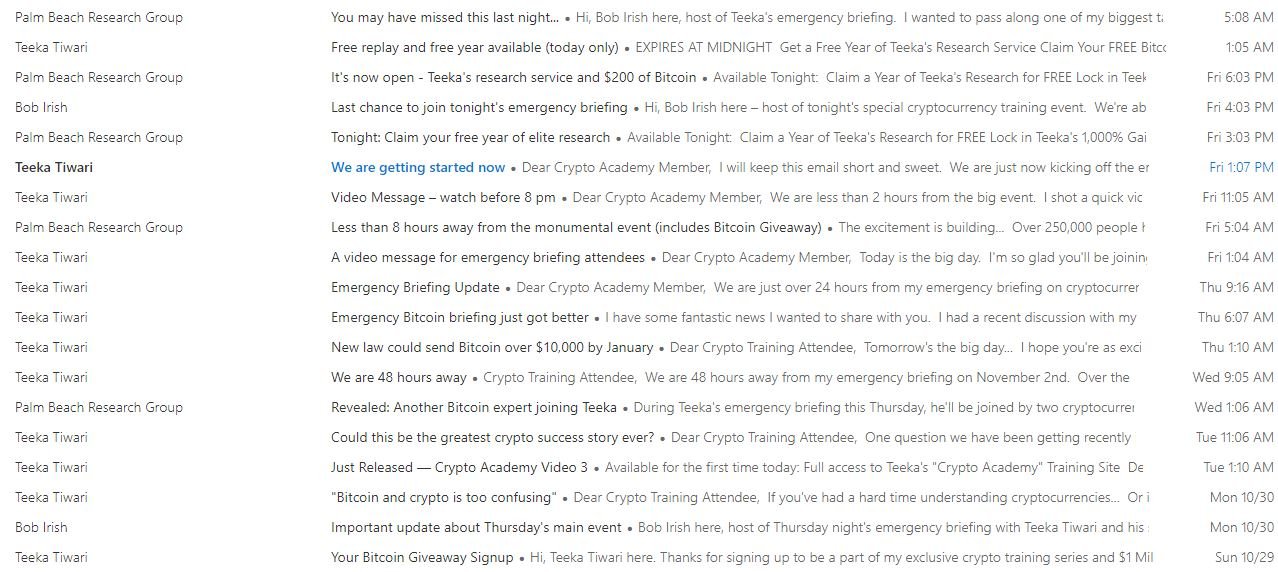 The COURSE
Teeka's free course. It teaches newbies how to setup an account etc which was good. It also seemed to be a bit of an advertisement for joining certain bitcoin buying gateways. Which is fine I guess as the more people we have in crypto the better. But again you were bombarded with the sales pitch again.
Fast forward to the webinar release.
The Webinar
We are again forced to listen to about 30 minutes of Bob Teeka stroking Teeka's ego. While perhaps some of the stuff he says is true or even all of it, the problem is they lead you to believe they only make winning calls, its corny and misleading for new investors.
He then talks about a law change that will make crypto explode. I have to admit this was actually good info but it's not pertinent or urgent and is certainly not an emergency. This information is old news though many people had not really heard about it yet because there is more important things in crypto right now, though it is good to know.
He then goes on to talk about other coins he will introduce us to that will benefit from this law. But doesn't deliver on that promise.
The webinar was pre recorded. Not live as promised. It even had a little LIVE icon in the video. How do we know? Because about 5 minutes into the « live » video the entire transcript was leaked to various facebook and slack groups. The transcript was word for word, there were no ums or arhhs in there at all. Pretty impressive for a live recording.
The transcript reveals his mystery coin as Ripple (XRP). Why was it leaked? We have repeatedly seen this kind of behavior from this group. It caused a double pump and dump, rather than a single as those that hadn't seen the transcript wouldn't have known this info.
We saw large spikes in ripple that lasted a few minutes followed by massive dumps as people saw that leaked info.
We saw a repeat of this with ripple spiking again as the « live » video feed caught up on the webinar. In seconds the price goes up and dumps back down. It even dumped further than it was before the report.

Next they reveal the only other coin but at the same time don't. They pulled a similar stunt a few weeks ago where they hyped a coin and gave hints which caused several coins to pump then dump in value. They leaked then retracted what the coin was to cause a double pump and dump again. The coin was Zencash and I believe this is the coin they are talking about as the second teaser coin.
You can find the link to the transcript here.
https://pros.palmbeachgroup.com/p/1711PBOMEGAPOST/WPBOTB38/Full?h=true
This is questionable behavior and it already lost them a lot of credibility, but it put everyone on the hook to get excited that whatever coin Teeka talks about will go up in price. It was a deliberate manipulation. Once the news was out the coin doubled in price.
Obviously Teeka is not all talk. He gives out some good advice and people want to follow him and pay for his advice. He has created a sucessful group that makes successful calls and offers good advice.
Advice that is sort after so his reports get leaked and shared but this is true of every group. I myself have sought them, but more out of curiosity to compare with my own views. I seen them and read them and been interested but I never really found anything that great in them or things that I hadn't figured out myself or others had told me about. Now and then he does pull out a gem like Antshares or NEO. I personally road that train too not as early as he called it but early enough to be pretty happy right now. I was newish to crypto then and figured it out just by reading up on Neo.
It's good solid info. But because he made good money and some really good calls early on, he is in a position of influence. He is now abusing that for personal gain and the way he is doing it hurts the community and is hypocritical because his gain is someone else loss and generally that would be newbies to crypto, the very people he is trying to get to join his group.

Back to Zencash. I have followed Zencash for months buying and selling and holding. Chatting in the various channels about progress etc. I even mined it.
For the last few months I had been accumulating quite a bit of it. I think it is a solid pick. But the thing that makes it solid is its unique feature « secure nodes » For the last month or two this feature has been on the verge of release. You can see it in the price, as it spikes every time some news hits about secure nodes. It spiked to a high of 0.0028 BTC or $13 back at the start of September because of testnet for secure nodes. It suffered the same fate as most coins over the period of China FUD and forks dropping the price.
The chatter was that when nodes are released the price might double or more. This chatter had been around for over a month.
Zencash was due to spike on its on any time now with the release of secure nodes immanent. Those of us that have been following it forever happy to let it happen naturally.
Teeka had other plans. He scooped while the price was low and artificially forced it to spike by hyping the coin and causing mass buy in almost doubling the price.
We now see it dumping after his videos as people lost confidence in Teeka's advice. Though it is still strong it is back to the same level in BTC as it was before though the dollar value is $20. Zencash was always going to be strong over this period though probably not that strong.
I have no doubt Zencash will bounce back and do just as well as Teeka predicts. But he is taking credit for something anyone already invested in Zencash knew and forced it early which in my oppinion was for personal gain.
Natural increases on realeases are much better for a coins health.
I also dislike how Teeka didn't really explain his reasons well for investing in zencash. Zcoin is technically very similar but perhaps slightly better (has auditing, but perhaps the team is not as good) he doesn't mention competition or any of the dangers.
He even undermined his own paid group by not telling them what the coin is before they did a leak which was then removed.
He did eventually officially reveal the coin as Zencash (queue the double pump again) to his paid members and this is where I say his reasoning and analysis is weak again as he doesn't mention secure nodes once.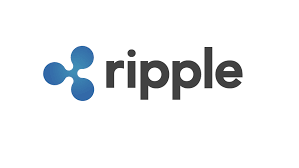 This brings us back to XRP. It has actually gone down in price since his reveal. No one believes in Ripple. It has had too many chances and not delivered. But sure it has a massive market cap and it could actually do be something if the team gets it act together. No one is buying what Teeka is selling today (except maybe his subscription). I think perhaps this backfired more than Teeka thought. We can assume palm springs group holds lots of Ripple as its in all their reports or so he says, but so do many other people. Perhaps they were looking to push it to new highs and ride into the sunset. Or perhaps they succeeded in what they were planning.
What is clear is most people in the crypto world have now lost respect for Teeka and their group in general. Hopefully people will no longer by buying randomly into coins they hype as it is not good for crypto and it is not good for the markets.
This was nothing short of one big advertisement and pump and dump using questionable tactics. It is even possible he has broken laws.
Breakdown on all the dodgy behavior
The $1,000,000 bitcoin giveaway
I couldn't find any terms and conditions relating to the give away. There appears to be laws around this that he has not followed such as providing terms and conditions.
His advertising material all falsely leads you to believe all you have to do to get a chance of winning some of the $1 million dollars is to register your email and watch the « live » webinar.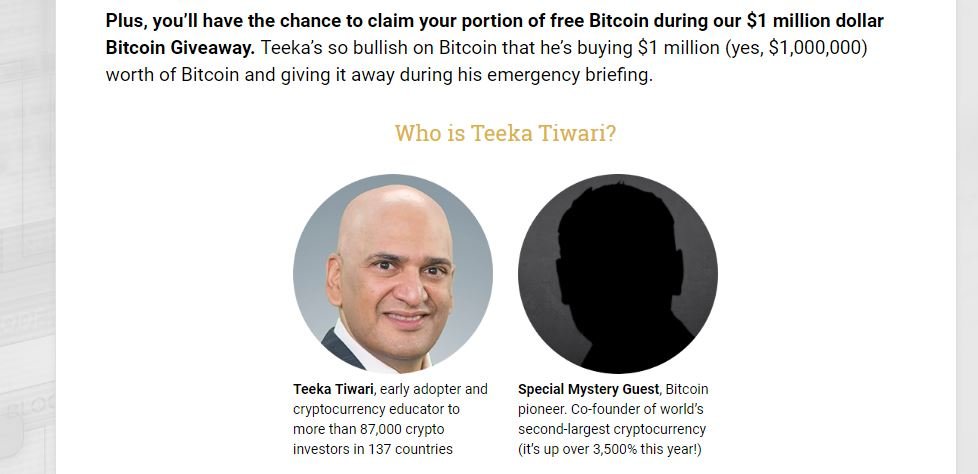 Link to the
http://palmbeachgroup.com/content/palm-beach-daily/if-you-missed-this-215-gain-november-2-is-your-second-chance/38109/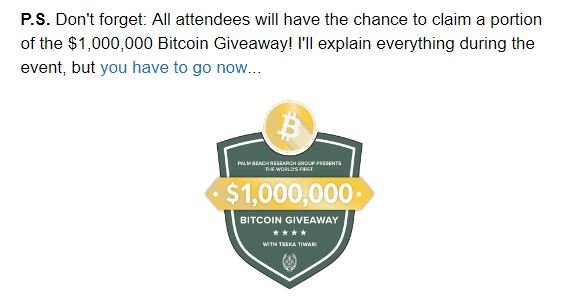 Again bob says they will begin giving it away during the briefing. Again not true. It was not until after. Here is a screenshot of the transcript where he says it.

Here they mention how to claim your the giveaway bitcoin plus free gifts again.

I even found a sponsored promo for « winning » some free bitcoin.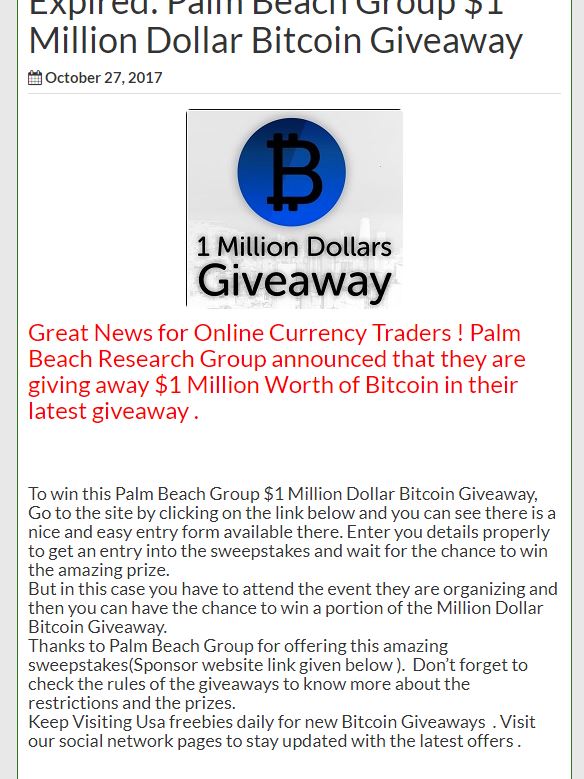 Free gifts. I attended. I didn't get any free gifts nor did a see a way to get any. It is supposed to be a 7 page report or something and worth up to $1500.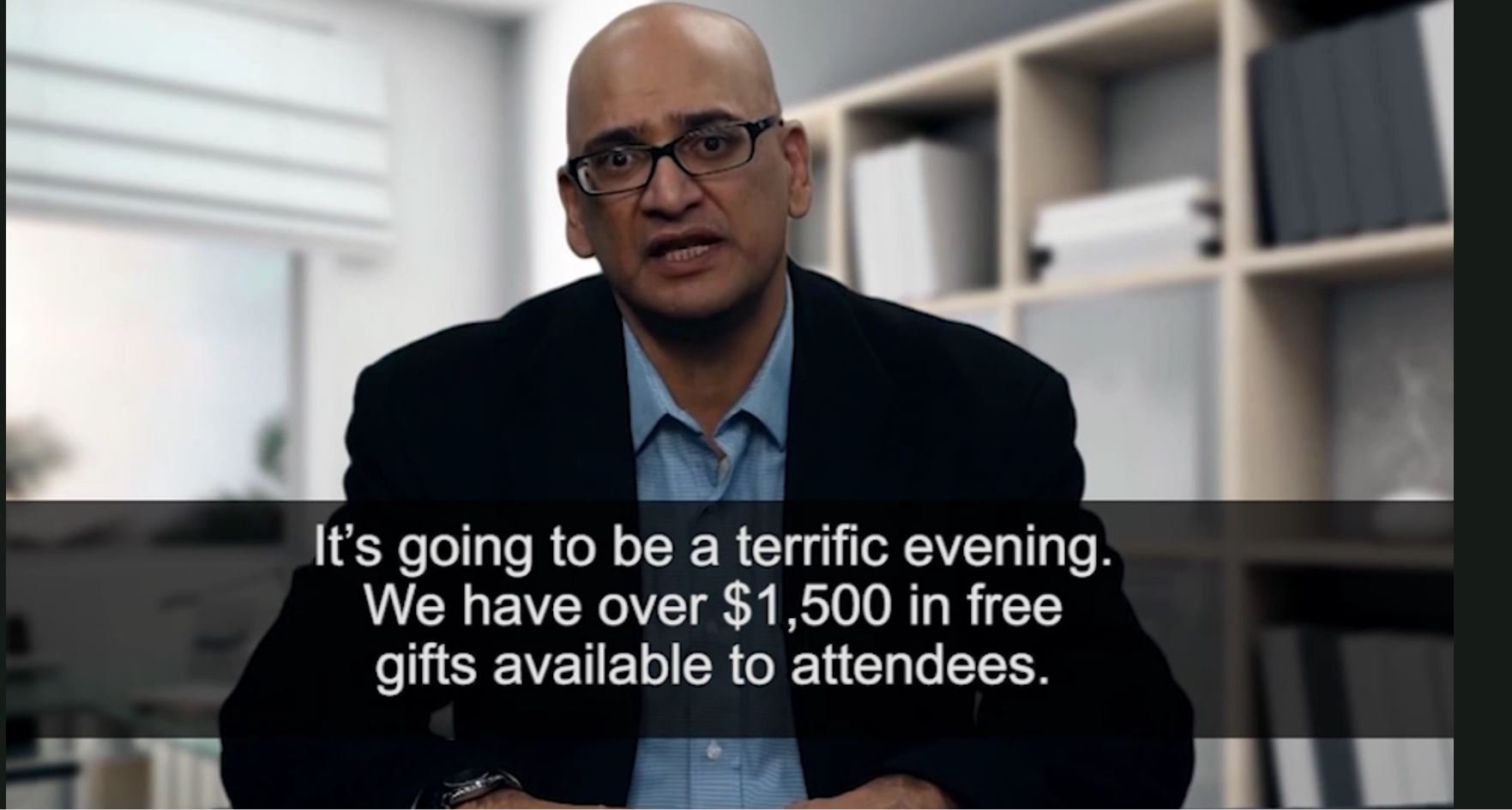 You can still access the 7 page report at this link ( http://www.teekatraining.com/special-report_oie837.html ). There is nothing to interesting in this report and its certainly not worth paying money for. His training is also very basic and the same information can be found for free and there is better courses that teach you pretty much everything you need to know such as the training course by the infamous Suppoman which is only $10 and whether you love or hate Suppoman his course is a 9/10 for newbies.
All through the week long training material, emails and course they imply the broadcast will be live. We get an email a few days into the training saying they will rebroadcast the event. The actual broadcast has a little red live box at the top right. Clearly it is not live but they make comments throughout the broadcast as though it is.
Teeka claims to see people subscribing to his group during the prerecorded « live » show.

The giveaway turns out to just be a discount to his course. The course price is $2500 and he then sends you back $200 worth of bitcoin to a wallet address you provide. He could easily buy this bitcoin live on an exchange with the money you send him.
Again they claim it will all be given away during the event but that was not true and they also claim they will be giving it ALL away. Again that is not true and depends entirely on how many people join his group.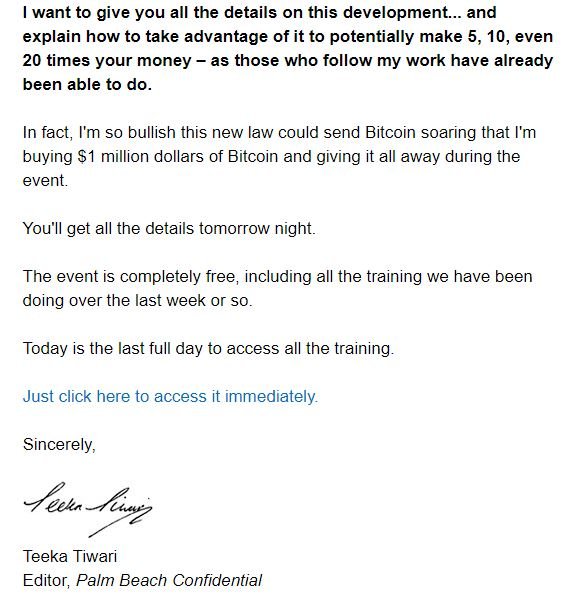 Did he buy bitcoin upfront? Right now appears to be a horrible time to buy bitcoin (current price $7400). Right on the peak price with a possible correction in the price coming. Long term sure it would be fine. But buying now? Just doesn't sound believable. (update: Price of bitcoin is now $6400 and dropping so as predicted it was not a smart time to buy bitcoin)
Lets do some numbers.
$1,000,000 = 5000 new users he needs to give $200 worth of bitcoin to. If 5000 people sign up he will make $11.5 million dollars basically for no extra work that he usually does.
Note he also doesn't accept crypto as a payment. How lame is that. I guess it would be pretty pointless if you paid him in bitcoin and he sent $200 worth of it back to you.
Here is the only payment options also there is no rules or conditions visible to show you the details of the giveaway.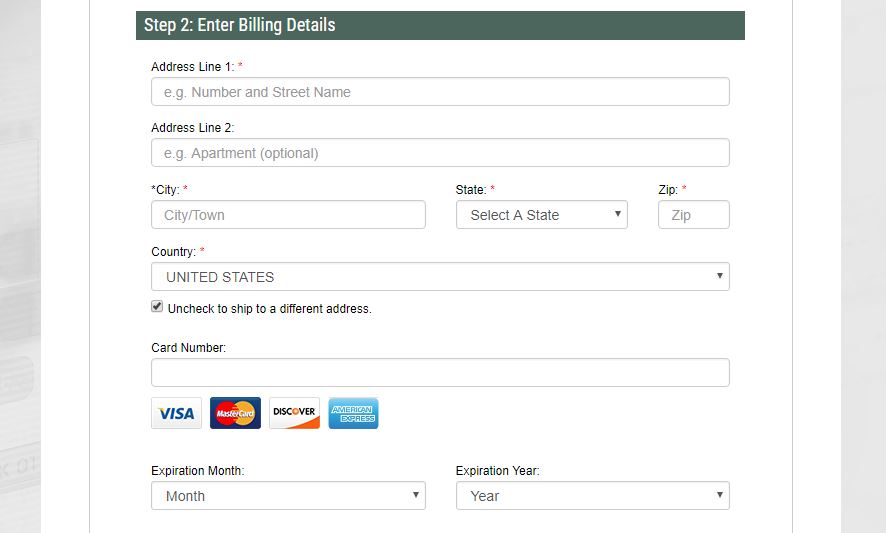 Competition or giveaway laws
A possible law around giveaways is you most not mislead people or require them to go to an outside or third party location in order to collect their prize like filling out a survey etc.
We signed up on Teekatraining.com which is now redirected to palmbeach. All the material implied or stated as per the pictures above all you had to do was show up for a chance to get some free bitcoin. He is dangerously close to breaking a few laws in regards to giveaways but likely had a lawyer involved so everything was likely vague enough.
Saying you can win just by showing up and then asking you to buy something is also something that the law has protections around.
He has also probably broken some privacy laws or if not misled viewers with a possible fake ticker. (bottom left).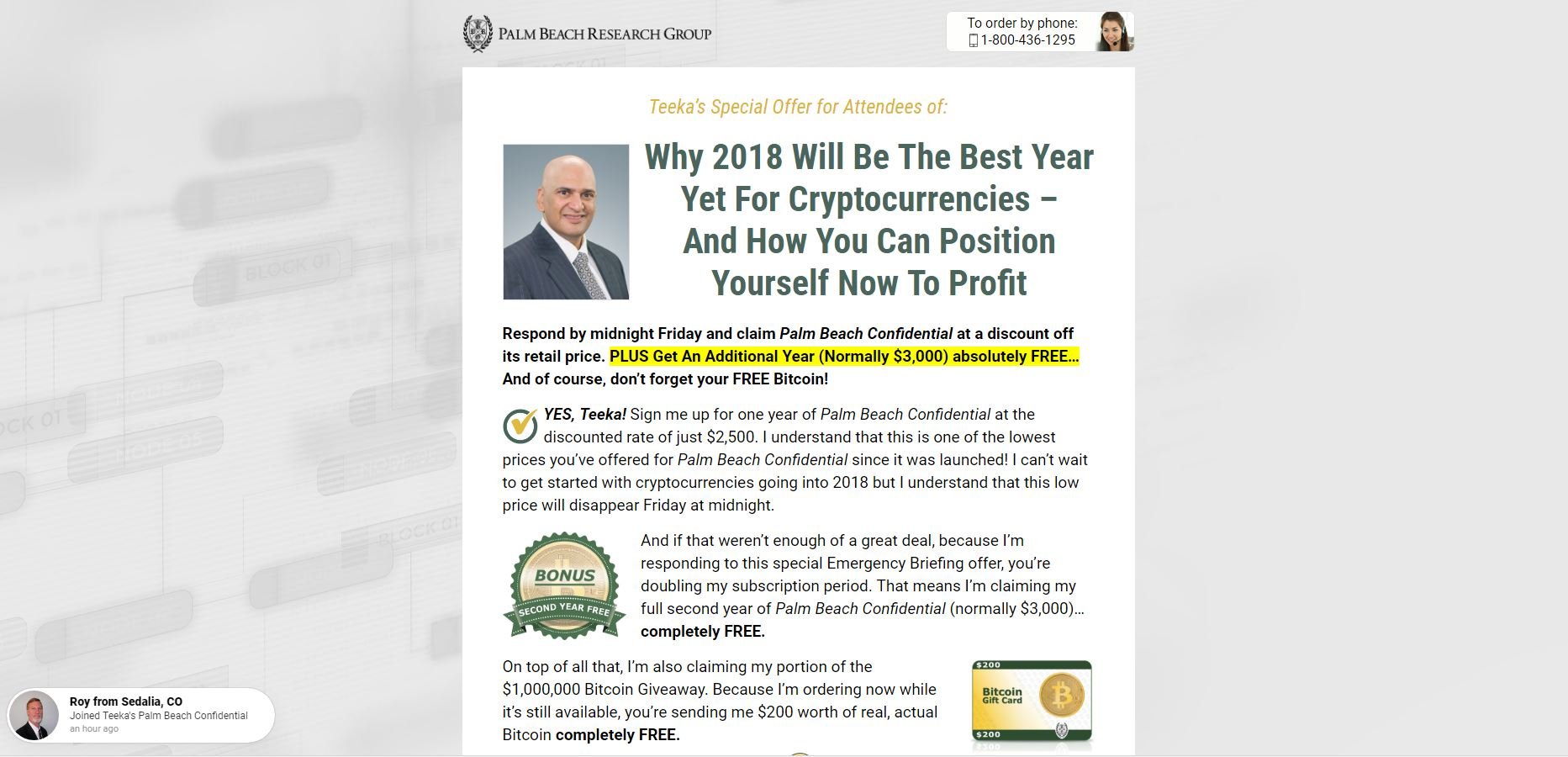 I know these people didn't sign up for their personal information to be displayed, I certainly didn't but I am not sure he would have been able to get a photo or my location purely from my email address. Also I did not get a popup asking me if they could use my location information, so this kind of seems faked, but I guess it could be real via the info people share on their google email addresses. But again no permission was given to use it and there was no terms and conditions that I could find.
This is the kind of ticker you see on those cheap clothing websites that sell super low quality clothes where the images look amazing and the real product is horrible.
SPECIAL GUESTS
Do his special and featured guests know how he used them I kind of suspect not for some of them. So who were they.
Bitcoin Jesus Roger Ver – He wasn't featured.
Anthony Di Lorio – They barely let him talk. They touched on crypto bans in china and also mentioned the $1million dollar give away at this point. He didn't really share any sage advice or endorse Teeka but he clearly knew what was going on here. What reason did he have for coming on? Well apparently he has ties to Ripple and Teeka shilled Ripple. But I couldn't find those links.
Charlie Shrem – He didn't really say much. Though his advice was ok. They don't really say why we should listen to these people or how t hey made their millions, only that they are important because they made millions. You can read about how Charlie did here.
http://markets.businessinsider.com/news/stocks/A-26-year-old-Bitcoin-entrepreneur-was-handed-prison-time-and-the-experience-only-confirmed-his-belief-in-the-cryptocurrency-1001572621
He was convicted of helping drug traffickers bypass the buy and sell restrictions put on bitcoin on his site which aided in the sale of drugs on the silk road, a website for buying and selling drugs etc. He made a mistake and paid for it. But being a part of this shambles makes me not like the guy.
Chandler Guo – Not featured not sure why he was mentioned.
Teeka uses Vitaliks name quite a bit. I can't find any info on what their relationship is and if Vitalik speaks to him regularly. From what I can gather they met once at a conference and he got a photo with him. There could be more but I can't really find any reference to it. Now if Vitalik has been on as a guest speaker that would have been impressive.
Summary
Do I discourage people from joining his group? No, not really there is useful info in there and he does have extensive knowledge and contacts in the crypto world.
How credible is his access to insiders and successful people. I am not sure. Some of those people were just right place right time, do they have insider info that Teeka has access to? I don't know.
I myself and guilty of right place right time and made 2000% gains on a few coins. There wasn't a lot of skill involved. I just saw something that looked pretty good and it luckily exploded. I have also made bad calls.
I have seen a few of Teeka's reports and he makes plenty of questionable calls also. He does not provide you with advice on when to sell.
Ripple is an ok example in recent times. Palm beach continues to say buy buy buy while ripple dives and dives lower and lower at every turn month after month. Could it go where he is saying in a year? Yes maybe, that is always a possibility but it is also linked to banks which is what most people that are in crypto don't like about it.
What Teeka doesn't explain to well is that you constantly need to play the market on many of these coins or you will end up in loss in most cases, or you need an exit strategy. Sometimes you will strike it lucky with one or two coins and this makes up for all the loses and then some.
The chances of making 2000% are becoming less and less but they still exist.
So what is wrong with what he is doing or done? Is any of it illegal? Not sure, I am going to go with maybe. Is it in poor taste, yes. It makes crypto look like an as seen on TV joke. Is he manipulating the markets on purpose, I believe he is. You can see outright lies and untruths with just what I have posted here. Such as claiming to see people buying the course even though the webinar was not live.
While it won't necessarily effect people that know what is going on that and clued up. It can hurt those that are new to crypto when pump and dumping happens. Someones gain is often another persons loss but not always, there is value in many of these coins. If a coin becomes useful and people want to pay to use that service a coin can gain value in that way also.
Am I personally affronted I didn't get any free bitcoin or wasted my time showing up and going through all his material? Do I feel tricked? No personally I don't. I showed up out of curiosity and enjoyed every minute of this side show. It confirmed everything I have pretty much always thought about the group and hopefully has put an end to the hype around the info Palm Beach « leaks » and uses to manipulate prices and people.
I didn't expect to get any free bitcoin but I kind of feel I was misled into thinking there was a chance to get some.
Groups like this are ok. But how much access do you get to Teeka. There are way better groups out there where you are all treated as near equals. The people that run them are active and you can chat to them in real time on places like slack.
If you are new to crypto joining a group like this is a massive down payment. You are better off using that money to invest in crypto and find free/cheap groups to doing where you can have real time discussion with real people.
The past is the past. Palm beach made great calls in the past but who is to say they will in the future. It has been a while since they pulled out anything amazing. And they missed so many gems.
$2500 is a small amount of money. Use that money to learn crypto. Make mistakes, learn from those mistakes and then start earning money. Once you are trading around values equal to that on a weekly basis this is maybe the time to start thinking about joining groups like this.
Update
On selling your personal details to a third party. Did you sign upto the text reminder? Well you are likely to get a phone call from some other company trying to get you to invest in bitcoin. Someone called me from London. I have heard of other reports too. I typed in my phone details but I never submitted them. But it looks like it still captured it.
Disclaimer: this is 100% my personal opinion. I do not write this to discredit or insult Palm Beach Research as I think they have their place. But I choose to disagree with Teeka's recent behavior and tactics.